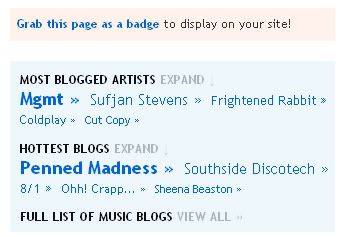 Seems like someone's been a good little blog this year... St. Hype Machine has brought us here at Penned Madness a nice little gift this holiday season in the form of Top Spot on their "Hottest Blogs" list, an entitlement we having been holding on to for the past few days...

(Though at the time of publishing of this post, it seems we have been replaced, le sad -M)
I have been missing from the internet scene myself the past few days due to family gatherings and consequential whiskey binges (what can I say, I heart the holidays) - so I would like to thank our boy
Basick
for bringing this good news to my attention. Good lookin' out my friend.
So even though the blog is on its top game evidently, there hasn't been a post in about a week... Like I said, I have been missing from the blogging game these past few days, but it doesn't mean I don't care. I have compiled a collection of some awesome shit that has been sent to us over the past week. And get ready for the new year folks, we are ready to take this place my storm...
Good Times...
-------------------------------------------------------------------------------
First off, a track from our boy and former Tallahasseeian turned Bostonian -
Knowlton Walsh
. "Animals" and it's 160 bpms is a track made for the floor, have fun with this one!
Knowlton Walsh - Animal
Teen Wolf
is at it again, this time remixing Lady Gaga's "Just Dance." I have this thing where I really dig songs that command something of you (ex: D.A.N.C.E.'s hook).
Lady Gaga - Just Dance (Teen Wolf remix)
From
Zuckr
comes his breakbeat take on the Aphex Twin "classic" Windowlicker...
Aphex Twin - Windowlicker (Zuckr Breakbeat Chop)
Herr Kaschkes
' K-OS remix of Uptown Girrl has been makin' some waves, it is currently fifth place in K-OS' remix contest. Check it out
here!
K-OS - Uptown Girrl (Herr Kaschkes Remix)
Something pretty fresh from
Dmitry Fyodorvo
, "Bake Sale." Get it?...fresh?
Dmitry Fyodorvo - Bake Sale
Database
+ Superpose = Dance Time
Superpose - Move My Baby (Database Remix)
And last but not least, something from
Shiny Toy Guns
AND those cats that have been EVERYWHERE the past few weeks,
TADT
...
Shiny Toy Guns - Ricochet! (TADT Remix)
-Manley, Himself