Over the last few months, a singular but powerful voice has been gracing 12" singles, DJ mixes (from the likes of Drop the Lime, Sharkslayer, French Fries/Senta & others) & dance floors around the world. From Polish production duo (& recent Trouble & Bass signing) Supra1's dubstep banger "Still Believe", to the funky soulful NYC house grooves of Annex's "Miracle Mile", to the classic 90's rave vibe of "The Feeling" by 92 Eternal (the brainchild of Brooklyn heavy bass champ A.C. Slater, with additional vox from Milwaukee hipster rapper Juiceboxxx), one voice elevates each track with soul, sass, & sophistication, & that voice belongs to one woman - Amy Douglas.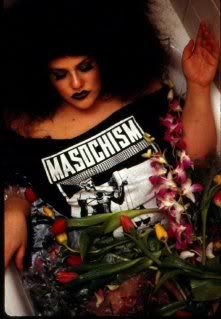 NYC native & Boston resident Amy Douglas, equal parts Chaka Khan, Sarah Vaughan, Donna Summer, P-Funk & Led Zeppelin, prowls the Earth like a musical & visual chameleon (one look at the "Boobies" video that made Gawker go ga-ga will explain why). She is armed with a 5 octave vocal range, holds a degree in music & composition from NYU, has the ability to also sing in multiple languages, plays piano, an audiophile's collection of mics in her home studio, & a penchant for music's debaucherous side. With such weapons at her disposal, she not only brings her voice to others' material, but she's also capable of transforming someone else's stab at a dancefloor banger into a bona-fide crossover hit.

Having come up the ranks as part of Downtown NYC's artsy underground gay rock club scene as a member of the Squeezebox band, & after a brief stint as 1/2 of the "post disco" duo Koko Dozo (who's bi-lingual single "Boomchi" was featured on Showtime's "The L Word"), she was invited to a one-on-one jamming & musical brainstorming studio session with T&B head honcho Drop The Lime who thought of Amy when his partner in crime A.C. Slater "needed a big intense vocal" for his new project 92 Eternal & his most recent T&B signing, Polish duo Supra1, for their debut single "Still Believe". From there, word of Amy's talents continued to spread (notably thru word of mouth from people like tastemaker & Paper Magazine Editor At Large Peter Davis), and as such NYC's fabulous House of Stank team contacted her to sing on a classic house tune called "The Sound" & from there, all producer/DJ/remixers looking to get on-board with the "diva du jour" started calling. Interesting, considering Amy sees herself more as "a music nerd who can blow, than a diva".


While Amy's aforementioned feature vocal work may have trumpeted her arrival to many dance music fans, she's got more flavors comin' than Baskin Robbins. Coming soon to eardrums near you are three projects, of which she is the anchor, writer & co-producer.


Amy brings the funk with Bootsy Collins bass prodigy Freekbass & turntablist/rapper/producer Tobotius as

BAMela

, a three-piece so dope that even the aforementioned Mr. Collins had to bring some noise on these party-starters' first single "I Do It Like". Feel this funk!

BAMela - "I Do It Like"





Discokaina

, Amy's collaboration with Bogota-via-NYC producer Rubio Res, sounds exactly like it reads, fusing Latin rhythms with electro, disco, rock, & more than a little sleaze. Soon to be supplying the world party from Colombia to the District of Columbia - but for now, have a bump!

Discokaina - "Click Me On" (Grievous Angel Remix)

(& since its Fashion Week & all here in NYC, y'all should have this lil nugget they dropped back in the spring, a little ditty called "Fashion Magazine", which got tastemakers Sheena Beaston and the aforementioned Editor at Large for Paper Magazine Peter Davis verrry hot and bothered. What better a time to put it in your ears than now?)

Discokaina - "Fashion Magazine"


SPF5000

is the third, & perhaps most unusual of all of Amy's projects. The Boston-based duo (Ms. Douglas & producer Rob Phillips) answers the never asked question "what if The Eurythmics grew up on a steady diet of French electro, NY & Italo Disco, '80's Bronx Freestyle, & dirty house?"

SPF5000 - "Sex U Can Hear"


Not knowing how to rest on her laurels, Amy's got a slew of other featured vocal works & collabs comin' round the bend, contributing her talents to upcoming tracks by NYC's Team Facelift, Finnish Top Billin crew production duo Sharkslayer, UK bass & dubstep merchants Raffertie & Grievous Angel, the next 92 Eternal single, Discokaina remixes from NYC's DJ Nita & B'more legend Scottie B, & a hotly anticipated collaboration with The Juan MacLean, Amy's vox might just give the Pitbulls, Lil Jons & Weezys some competition for "most popular voice to get on your track if you want a club anthem".

... & in case ya didn't have 'em before ...

Supra1 feat. Amy Douglas - "Still Believe"
92 Eternal feat. Juiceboxx & Amy Douglas - "The Feeling"
Annex feat. Amy Douglas - "Miracle Mile"
House Of Stank feat. Amy Douglas - "The Sound"
... and the newest remix of Koko Dozo, by Palms Out Sounds collaborator & party-starter

DJ Nita


Koko Dozo - "Bastards In Bazbador" (DJ Nita's Intergalactic Groove)

- Sean"MF'n"Roberts