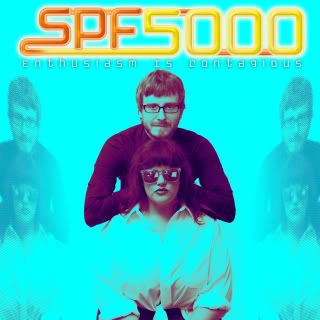 There's a newcomer to the bourgeoning Boston EDM scene, home to artists like Hot Pink Delorean, Plus Move, Bodega Girls, Mystery Roar & the Zebbler Encanti Experience, & DJs Baltimoroder, Die Young & Volvox, but this newcomer comes with some pretty impressive pedigree & a voice that's impossible to ignore. SPF5000 is the dynamic duo of producer Rob Phillips & vocalist/songwriter Amy Douglas, who have fused their collective talents to create a unique brand of scuzzy dance pop that borrows from many styles (Dirty House, Electro, NYC/South Bronx Freestyle & Hip Hop, just to name a few).

Citing such luminaries as Sebastian Leger, BT & Mark Farina as influences, Rob Phillips went from being a regular attendee at NYC's biggest dance clubs & raves to sharpening his chops on a Fender Jazz bass & enrolling in the Music Synthesis Dept. of the Berklee School of Music, all the while covertly planning to unleash his own brand of EDM onto the world when the time was right. That time came when Amy Douglas relocated to Somerville Mass. from her longtime NYC home.
Having cut her teeth in NYC's infamous downtown nightlife scene, & armed with a 5 octave range, a degree in Jazz Composition from NYU & her own fully decked out recording studio, Amy Douglas' powerful voice was lit up dancefloors all over in 2010, most notably as a featured vocalist on AC Slater's 92 Eternal track "The Feeling", Supra1's "Still Believe" on Trouble & Bass, & Annex's "Miracle Mile" on NYC House label KULT Records. So far, 2011 sees no slowdown in Amy's productivity, as this "diva in demand" has a release slated for late January with Top Billin's Sharkslayer, collabs with Alan Astor (of Punches) and The Juan MacLean are in the works, & she's also the face and voice of Discokaina, a greasy Latino-Disco project produced in Bogota, Colombia.
For SPF5K's debut, they've just dropped their debut single & a DJ mix to tickle your earholes & shake yer booties! The single "White Hot Fantasy" is a slice of Dirty Electro meshed with a heavy dose of Old School Freestyle, & their DJ mix –"Enthusiasm Is Contagious" - explores just some of the wide variety of influences (Tech House, Electro, Freestyle, Dubstep) that brought these two together in the first place. To paraphrase Tribe's Phife Dawg, its a funky introduction of how nice they are!
Grab these from Soundcloud (below) & hit 'em up on Twitter & Facebook

"White Hot Fantasy" single -
White Hot Fantasy- Single by SPF 5000
"Enthusiasm Is Contagious" DJ Mix -
Enthusiasm Is Contagious - DJ Mix by SPF 5000
- Sean "MF'n" Roberts