So I am back from my adventure to Michigan. Such a fun time - saw old friends, met some new ones, played some shows, learned to roll sushi - good times! Beautiful area as well, I must say.
This was one of the highlights of the area where I was staying, the Ypsilanti Water Tower - the world's most phallic building.


Local legend states that this tower, aka "
The Brick Dick
," will fall if a virgin ever graduates from the local university, East Michigan University.
What a sales pitch,
"You don't want the tower to fall now do you babykins?"
The water tower in Ypsilanti only just barely won
Cabinet Magazine's
Most Phallic Building Contest of 2003, beating out Tallahassee's own dear genital monument - The State Capitol Building.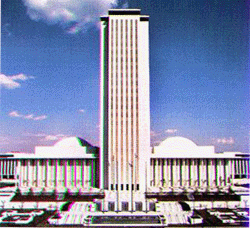 Gotta love giant rock cocks of the world, eh people? Anyways, enough architecture eroticism - onto the tracks. Today I am posting some of the tracks we received in our inbox over the weekend, as I have been off my internet game these past few days. Hope you enjoy...
DJ Medley
Jungle Brothers Vs Cassius Vs Medley - I'll House My Feelings For You (Medley Blend)
Tonedeff
, with a little dash of one of our favorites...
Chew Fu
of
Palmsout
.
Tonedeff & Chew Fu - Warden (Love Lockdown RMX)
Soulwax
MGMT - Kids (Soulwax Remix)
Crash Overdrive
The Chemical Brothers - Block Rockin' Beats (Crash Overdrive Rmx)
-Manley, Himself