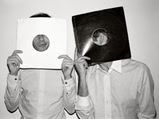 So... We need to have a little chat.
Do you understand that 2 Many DJs are better then your entire existence?
Do you understand that you don't have to go to church any more because 2 Many DJs put together this mix for yours sins.

Recently and by recently I mean like yesterday, 2 Many DJs aka Soulwax took over the Rob Da Bank show on BBC's Radio 1. And compiled an entire set made out of song intros. 420 intros in an hour. That is about 7 tracks every minute.

Click this for the Megaupload Link

Here is the track list:
NEIL – HEAVY CONCEPT ALBUM
PHILIP BAILEY & PHIL COLLINS – EASY LOVER
QUARTZ – QUARTZ
GODLEY & CREME – ENGLISHMAN IN NEW YORK
AUTOMAT – THE RISE
VIRGIN PRUNES – BABY TURNS BLUE
ZOMBIE NATION – FORZA
ARPADYS – MONKEY STAR
METHUSALEM – THE BLACK HOLE
GIANNI SAFRED – JAZZ COMPUTER
MAGICAL RING – BLACK SAFARI
KILLING JOKE – LOVE LIKE BLOOD
FELIX – ELVI$
THE SONICS – HAVE LOVE WILL TRAVEL
ADAM & THE ANTS – DEUTSCHER GIRLS
THE RAH BAND – THE CRUNCH
VAN HALEN – SUNDAY AFTERNOON IN THE PARK
FLASH & THE PAN – MIDNIGHT MAN
MUNICH MACHINE – SPACE WARRIOR
ZOMBIE NATION – WORTH IT
DONNA SUMMER – I FEEL LOVE
DEBORAH WASHINGTON – NOTHING BUT DRUMS
THE BAND – THE SHAPE I'M IN
DELTA 5 – MIND YOUR OWN BUSINESS
THE B-52'S – DIRTY BACK ROAD
TODD RUNDGREN – WHERE DOES THE TIME GO
TELLIER/SEBASTIAN/OIZO – BONHOMME
MC5 – KICK OUT THE JAM
STEELY DAN – DO IT AGAIN
MC5 – KICK OUT THE JAMS
JIMI HENDRIX – UP FROM THE SKIES
VASHTI BUNYAN – SOME THINGS JUST STICK IN YOUR MIND
HEART – BARRACUDA
ANARCHIC SYSTEM – POPCORN
AMNESIA – IBIZA
TRIO – DA DA DA
THE MOTORS – AIRPORT
CHIC – LE FREAK
THE UNDERTONES – TEENAGE KICKS
THIN LIZZY – JAILBREAK
NICK STRYKER BAND – WALK IN THE PARK
HUMAN LEAGUE – THE LEBANON
ARMANDO – 100% OF DISIN U
MAURICE – THIS IS ACID
PRIMAL SCREAM – ROCKS
YMO – BEHIND THE MASK
FLEUR DE LYS – CIRCLES
YELLO – BOSTITCH
DR HOOK – BABY MAKES HER BLUE JEANS TALK
KRAFTWERK – COMPUTER WORLD
ARTFUL DODGER – REWIND
THE SWEET – FOX ON THE RUN
CLOR – GOOD STUFF
LATE OF THE PIER – BATHROOM GURGLE
GRAHAM COXON – FREAKIN OUT
SUPERGRASS – RICHARD III
RACONTEURS – FIVE ON THE FIVE
THE WHO – I CAN'T EXPLAIN
THE NAZZ – OPEN MY EYES
SMALL FACES – WATCHA GONNA DO ABOUT IT
THE KNACK – MY SHARONA
THE STRANGLERS – SOMETHING BETTER CHANGE
BOB SEGER – HOLLYWOOD NIGHTS
MODO – EINS ZWEI POLIZEI
NICK LOWE – SO IT GOES
SQUAREPUSHER – MY RED HOT CAR
TONI BASIL – HEY MICKY
ROBERT PALMER – JOHNNY & MARY
JANE BIRKIN – EX-FANS DES SIXTIES
SIOUXSIE & THE BANSHEES – HONG KONG GARDEN
XTC – MAKING PLANS FOR NIGEL
SONIC YOUTH – KOOL THING
NIRVANA – BREED
LAURIE ANDERSON – O SUPERMAN
ART OF NOISE – MOMENTS IN LOVE
SEXUAL HARRASSMENT – IF I GAVE YOU A PARTY
DEVO – WHIP IT
MOUNTAIN – MISSISSIPI QUEEN
PANTERA – I'M BROKEN
MARTHA & THE MUFFINS – ECHO BEACH
SQUEEZE – COOL FOR CATS
ELTON JOHN – SATURDAY NIGHT'S ALRIGHT FOR FIGHTING
THE BEATLES – HELTER SKELTER
THE BLACK CROWES – REMEDY
THE KINKS – LOLA
BLACK SABBATH – IRON MAN
THE JAGS – BACK OF YOUR HAND
DE BRASSERS – ??? (AKA IK WIL ERUIT)
JERMAINE JACKSON & PIA ZADORA – WHEN THE RAIN BEGIN TO FALL
GINUWINE – PONY
THE STRANGLERS – PEACHES
ELTON JOHN – BENNIE AND THE JETS
DAVID BOWIE – MOONAGE DAYDREAM
BERLIN – OVERLOAD
CREAM – POLITICIAN
NEIL YOUNG – OHIO
METRONOMY – A THING FOR ME (BREAKBOT REMIX)
THE UPSETTERS – WRAP YOUR WAR
T REX – MONOLITH
LL COOL J – I'M BAD
JOHN KAY – I'M MOVIN ON
WINGS – BAND ON THE RUN
TEARS FOR FEARS – SOWING THE SEEDS OF LOVE
QUEEN – DRAGON ATTACK
VANGELIS – THE DRAGON
MUDDY WATERS – TOM CAT
ZZ TOP – MANIC MECHANIC
RARE EARTH – I JUST WANT TO CELEBRATE
THE BELLE STARS – THE CLAPPING SONG
ST. TROPEZ – BELLE DE JOUR
NEW ELECTRONIC SYSTEM – PUT YOUR HANDS IN THE AIR
RUSH – TOM SAWYER
LATE OF THE PIER – RANDOM FIRL
TONY CAREY – RADIO TOKYO
PLACEBO – BALEK
FERN KINNEY – BABY LET ME KISS YOU
LOGIC SYSTEM – UNIT
CARLY SIMON – WHY
BANGLES – WALK LIKE AN EGYPTIAN
PAUL MC CARTNEY – WONDERFUL CHRISTMAS TIME
SELDA – YAZ GAZETECI YAZ
MOTORHEAD – WHITE LINE FEVER
SMALL FACES – COLLIBOSHER
CAETANO VELOSO – IRENE
DISCO FOUR – THROWDOWN
ZZ TOP – I'M BAD I'M NATIONWIDE
GEORGIE FAME & THE BLUE FLAMES – YEH YEH
STEVIE WONDER – TOO HIGH
JAPAN – VISIONS OF CHINA
JIMI HENDRIX – SPANISH CASTLE MAGIC
BOBBY CONN – NEVER GET AHEAD
GEORGE HARRISON – WHEN WE WAS FAB
CAPTAIN SENSIBLE – WOT
SHIRLEY (AND COMPANY) – SHAME, SHAME, SHAME
WENDY & LISA – ARE YOU MY BABY
SOPHIE B. HAWKINS – DAMN I WISH I WAS YOUR LOVER
THE O'JAYS – FOR THE LOVE OF MONEY
KINKS – BIG SKY
JANKO NILOVIC – POP BAZAAR
BEASTIE BOYS – SO WATCHA WANT
ROLLING STONES – MONKEY MAN
LYNSEY DE PAUL – SUGAR ME
THE BEATLES – SEXY SADIE
MUSICAL YOUTH – PASS THE DUTCHIE
FRANK ZAPPA – WILLIE THE PIMP
TODD RUNDGREN – HELLO IT'S ME
EN VOGUE – DON'T LET GO
THE GUESS WHO – AMERICAN WOMAN
PETER GODWIN – FRENCH EMOTIONS
KYUSS – ONE INCH MAN
ELO – SHOWDOWN
JAPAN – TAKING ISLANDS IN AFRICA
METALLICA – ONE
ADRIANO CELENTANO – PRISENCOLINENSINAINCIUSOL
RANDY CRAWFORD – STREET LIFE
FRANCE GALL – IL JOUAIT PIANO DEBOUT
VAN HALEN – RUNNING WITH THE DEVIL
THE PRETENDERS – BRASS IN POCKET
PIERRE CAVALLI – UN SOIR CHEZ NORRIS
JAPE – FLOATING
THE STREETS – DON'T MUG YOURSELF
NOTORIOUS BIG – HYPNOTIZE
MARLENA SHAW – CALIFORNIA SOUL
BRANDY & MONICA – THE BOY IS MINE
CAROLINE LOEB – C'EST LA OUATE
STEVE MILLER BAND – MY DARK HOUR
ELVIS COSTELLO – I DONT WANT TO GO TO CHELSEA
ANDREWS SISTERS – RUM & COCA-COLA
ALTHEA & DONNA – UPTOWN TOP RANKING
ALAN HAWKSHAW – THEME FROM GRANGE HILL
DAVID BOWIE – YOUNG AMERCIANS
ROLLING STONES – MEMO FROM TURNER
SHUGIE OTIS – STRAWBERRY LETTER
NINE INCH NAILS – CLOSER
JIMMY CASTOR BUNCH – BERTHA BUTT BOOGIE
JEAN KNIGHT – MR BIG STUFF
CHARLES WRIGHT – EXPRESS YOURSELF
TALK TALK – LIFE IS WHAT YOU MAKE IT
BEENIE MAN – WHO AM I
MICK JAGGER & PETER TOSH – DONT LOOK BACK
JEANETTE – POR QUE TE VAS
DILLINGER – COCAINE
STRETCH – WHY DID YOU DO IT
SOPHIA GEORGE – GIRLIE GIRLIE
KOOL & THE GANG – HOLLYWOOD SWINGING
THE KINKS – WATERLOO SUNSET
ROGER GLOVER – LOVE IS ALL
ALAN PARSONS PROJECT – EYE IN THE SKY
DAVID DUNDAS – JEANS ON
LIVING COLOUR – CULT OF PERSONALITY
SLY & THE FAMILY STONE – IN TIME
ELLIOTT SMITH – SON OF SAM
KID CREOLE & THE COCONUTS – I'M A WONDERFUL THING BABY
AXEL BAUER – CARGO DE NUIT
JONA LEWIE – KITCHEN AT PARTIES
SMALL FACES – OGDEN'S NUT GONE FLAKE
HOT CHOCOLATE – SO YOU WIN AGAIN
ARCTIC MONKEYS – I BET YOU LOOK GOOD ON THE DANCEFLOOR
TULIO DE PISCOPO – PRIMAVERA
BADFINGER – COME AND GET IT
WHITE TOWN – YOUR WOMAN
THE CONFETTIS – SOUND OF C
EVIL SUPERSTAR – OH GIRL
D.A.F – DER RAUßER UND DIE PRINZ
SEBASTIEN TELLIER – LA RITOURNELLE
MISTRAL – STARSHIP 109
BOSTON – MORE THAN A FEELING
SLY FOX – LET IT ALL BLOW
THE JB'S – GRUNT
ERIC B & RAKIM – I KNOW YOU GOT SOUL
DIGITAL UNDERGROUND – DOWUTCHYALIKE
NEW EDITION – CANDY GIRL
MINISTRY – WORK FOR LOVE
NU SHOOZ – I CAN'T WAIT
NEWLEUS – JAM ON IT
MANTRONIX – GOT TO HAVE YOUR LOVE
BEATIE BOYS – SHAKE YOUR RUMP
ALICE IN CHAINS – MAN IN THE BOX
PORTISHEAD – MACHINE GUN
CHIC – FUNNY BONE
JAMES INGRAM – DRUMBEAT
JOHNNY WAKELIN – IN ZAIRE
THE CHAMBERS BROTHERS – LET'S GET FUNKY
BRAD – 20TH CENTURY
HEART – MAGIC MAN
PIVOT – DIDN'T I FURIOUS
BILLY BOND – TONTOS
MEN WITHOUT HATS – SAFETY DANCE
STEVIE WONDER – ALL DAY SUCKER
FOX – S-S-S-SINGLE BED
THE MONKS – I CAN DO ANYTHING YOU LIKE
STEPPER MUFFS – STARS
PHILIPPA CATALDO – LES DIVAS DU DANCING
JEFF LYNNE – DOIN' THAT CRAZY THING
DEMIS ROUSSOS – LET IT HAPPEN
JOHN FORDE – STARDANCE
THE KINKS – WICKED ANNABELLA
HEAVEN 17 – LET ME GO
ASHA PUTHLI – MONEY
WEEN – VOODOO LADY
PRINCE – HOT THING
RENE & ANGELA – I'LL BE GOOD
WEATHERMEN – POISON
THE THE – GIANT
SPACE ART – LOVE MACHINE
BELLE EPOQUE – MISS BROADWAY
JANE'S ADDICTION – BEEN CAUGHT STEALING
MALCOLM MCLAREN – BUFFALO GALS
MEAN MACHINE – GRANDMASTER DST
SNOWY RED – EUROSHIMA
SALSOUL ORCHESTRA – NICE 'N' NASTY
HERMAN'S ROCKET – SPACE WOMAN
GUNS N' ROSES – MR. BROWNSTONE
BILLY PRESTON – NOTHING FROM NOTHING
AIR – SEXY BOY
GARY NUMAN – METAL
CAPTAIN BEEFHEART – CLEAR SPOT
ARBEID ADELT – DEATH DISCO
THE BREEDERS – CANNONBALL
BLOOD, SWEAT & TEARS – SPINNING WHEEL
M – POP MUZIK
THE POINTER SISTERS – AUTOMATIC
STEPHEN MALKMUS – PENCIL ROT
CHEMISE – SHE CAN'T LOVE YOU
STEVIE WONDER – DON'T YOU WORRY BOUT A THING
MINNIE RIPPERTON – LOVING YOU
SPACE ART – ONYX
FLEETWOOD MAC – DREAMS
GRAND FUNK RAILROAD – AMERICAN BAND
RICK DEES & HIS CAST OF IDIOTS – DISCO DUCK
THE BARONET – THE PELICAN DANCE
ARPADYS – ALL THE BASS
BONEY M – FELICIDAD
DENIECE WILLIAMS – LET'S HEAR IT FOR THE BOYS
RYAN PARIS – LA DOLCE VITA
SPACE – MAGIC FLY
PAVEMENT – RANGE LIFE
DR HOOK – WHEN YOU'RE IN LOVE WITH A BEAUTIFUL WOMAN
LIO – AMOUREUX SOLITAIRES
FREEEZ – IOU
LOU REED – VICIOUS
DONNA SUMMER – HOT STUFF
SONIC YOUTH – 100%
PAUL RITCHIE – COME ON BACK
THE GAP BAND – BURN RUBBER ON ME
GLS UNIT – RAPPER'S DEUTSCH
VIVIEN VEE – ALRIGHT
STEVE MILLER – SERENADE
BOZ SCAGGS – LOWDOWN
PINO D'ANGIO – MA QUALE IDEA
LENNY KRAVITZ – STOP DRAGGIN' AROUND
IDLE RACE – HURRY UP JOHN
MIKE PROCTOR – MR. COMMUTER
JACQUELINE TAIEB – 7 HEURES DU MATIN
IN FLAGRANTI – BLACK & GREY STRIPPED TROUSERS
LOVE UNLIMITED ORCHESTRA – WELCOME ABOARD
HEADMAN – IT ROUGH
ZODIAC – PACIFIC
KORGIS – BOOTS & SHOES
CAROL JIANI – HIT N' RUN LOVER
RINDER & LEWIS – WILLIE AND THE HAND JIVE
TIME – SHAKER SHAKE
KURUKI – CROCODILE TEARS
HARUOMI HOSONO – COSMIC SURFIN'
GINO SOCCIO – REMEMBER
HERCULE – SUNDAY MORNING FEVER
SECOND IMAGE – IS IT ME
CHARLES B & ADONIS – LACK OF LOVE
CHAS JANKEL – GLAD TO KNOW YOU
GARY WALKER & THE RAIN – IF YOU DON'T COME BACK
HUMAN RESOURCE – DOMINATOR
TELEX – MOSCOW DISKOW
JANIS IAN – FLY TOO HIGH
RAINCOAT – IT CAME IN THE NIGHT
MISTER K. – JIG A LA MODE
JEAN-MICHEL JARRE – OXYGENE (PART IV)
MOON BIRDS – ENERGY MC-1
ELO – SHINE A LITTLE LOVE
SHOCKING BLUE – INK POT
HUMAN LEAGUE – ROCK N' ROLL
PUSSY CAT – AUCUNE FILLE AU MONDE
LOS CANARIOS – TRYING SO HARD
GRAUZONE – EISBAER
JOHN FOXX – UNDERPASS
DAVE EDMUNDS – ON THE ROAD AGAIN
MICKY & JOYCE – MA' JACKSON
808 STATE – LEMON (OBERHEIM 4 MIX)
SIMPLE MINDS – I TRAVEL
JEFF WAYNE – EVE OF THE WAR
BOOKER T. & THE MG'S – MO' ONIONS
BLUR – COFFEE & TV
KAT MANDU – THE BREAK
AUTOMAT – THE RISE
LULU – THE MAN WHO SOLD THE WORLD
SUPERTRAMP – LOGICAL SONG
SEELENLUFT – MANILA
IN FLAGRANTI – BRASH & VULGAR
FREE – ALRIGHT NOW
AC/DC – HELL AIN'T A BAD PLACE TO BE
SORAYA – SORAYA FUNK
BOWIE – LOOK BACK IN ANGER
STRANGLERS – STRANGE LITTLE GIRL
ROXY MUSIC – LOVE IS THE DRUG
ABBA – SUMMER NIGHT CITY
DURAN DURAN – PLANET EARTH
YMO – RYDEEN
BLONDIE – CALL ME
THE GUESS WHO – IT'S MY PRIDE
KILLING JOKE – CHANGE
ROBERT PALMER – CLUES
P'COCK – SILVER SWALLOW
MICHEL POLNAREFF – CA N'ARRIVE QU'AUX AUTRES
AMON DUUL II – DEUTSCH NEPAL
THE ROLLING STONES – CAN'T YOU HEAR ME KNOCKING
BILL WITHERS – USE ME
CACTUS – EVIL
TACO – PUTTIN' ON THE RITZ
ALAN PARSONS PROJECT – MAMMAGAMMA
EDGAR WINTER – FRANKENSTEIN
TRUTH – HEY GYP
THE WHO – MY GENERATION
THE SONICS – THE WITCH
RONDOS – SYSTEM
WEEN – THE MOLLUSK
ORCHESTRAL MANOEUVRES IN THE DARK – ELECTRICITY
THE SPENCER DAVIS GROUP – GIMME SOME LOVIN
GEORGE JINDA – FUNKY DADDY
LIL WAYNE – A MILLIE
DIE DORAUS UND DIE MARINAS – FRED VON JUPITER
STEVE HARLEY – MAKE ME SMILE
THE CARDIGANS – CHOKE
SPARKS – AMATEUR HOUR
PLASTIC BERTRAND – CA PLANE POUR MOI
TAME IMPALA – HALF FULL GLASS OF WINE
PULP – COMMON PEOPLE
THE VELVELETTES – REALLY SAYING SOMETHING
LENE LOVICH – LUCKY NUMBER
PRETENDERS – MESSAGE OF LOVE
YOUR TWENTIES – CAUGHT WHEEL
SIOUXSIE & THE BANSHEES – HAPPY HOUSE
PJ HARVEY – DOWN BY THE WATER
MINK DEVILLE – SPANISH STROLL
DICK HYMAN – TOPLESS DANCERS OF CORFU
THE BEATLES – A HARD DAY'S NIGHT
THE STOOGES – I WANNA BE YOUR DOG
SOUNDGARDEN – HANDS ALL OVER
FRANZ FERDINAND – TAKE ME OUT
FLEETWOOD MAC – THE CHAIN
FAITH NO MORE – EPIC
MUD – TIGER FEET
SIGUE SIGUE SPUTNIK – VIDEO TRAILER MIX
FREDDIE MAS – BATHING IN THE BOIL
PRODIGY – POISON
BUFFALO SPRINGFIELD – FOR WHAT IT'S WORTH
AMBOY DUKES – BABY PLEASE DON'T GO
THE ZOMBIES – TIME OF THE SEASON
HAPPY MONDAYS – STEP ON
JOHN FORDE – DON'T YOU KNOW WHO DID IT
TC MATIC – OH LA LA LA
LIO – SAGE COMME UNE IMAGE
PORNO FOR PYROS – PETS
JOE JACKSON – IS SHE REALLY GOING OUT WITH HIM
WHAM – EVERYTHING SHE WANTS
SMITHS – HOW SOON IS NOW?
SIMPLE MINDS – THIS FEAR OF GODS
BEE GEES – JIVE TALKIN
KEVIN AYERS – SONG FOR INSANE TIMES
LED ZEPPELIN – TRAMPLED UNDERFOOT
ELASTIK BAND – SPAZZ
IRON BUTTERFLY – IN-A-GADDA-DA-VIDA
BACHMAN-TURNER OVERDRIVE – YOU AIN'T SEEN NOTHING YET
THE CLASH – THE MAGNIFICENT SEVEN
VISAGE – FADE TO GREY
THE SHANGRI-LA'S – LEADER OF THE PACK
TALKING HEADS – ONCE IN A LIFETIME
THE WHO – BABA O RILEY
SCISSOR SISTERS – COMFORTABLY NUMB
HUMAN LEAGUE – DON'T YOU WANT ME
LAURA BRANNIGAN – GLORIA
THE SMITHS – THERE IS A LIGHT THAT NEVER GOES OUT
SIRIUS MO – MEINE WELT IST WUNDERBAR
VAN HALEN – HOT FOR TEACHER
THE FLYING LIZARDS – MONEY
THE CURE – LET'S GO TO BED
ROLLING STONES – UNDERCOVER OF THE NIGHT
DAVID BOWIE – ASHES TO ASHES
THE SMASHING PUMPKINS – 1979
MGMT – KIDS
WHITE STRIPES – THE HARDEST BUTTON TO BUTTON


- DC/GlowTape!